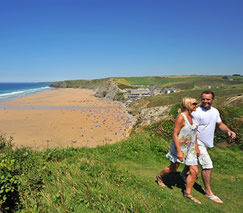 White Acres combines the best of both worlds. A tranquil 184-acre countryside setting, with far-reaching views of gentle hillsides, yet the golden sands of the Cornish coast are just 5 miles away. Lodge owners here are guaranteed the most varied getaways.
Imagine retreating to the country whenever you need to unwind, to a lodge filled with home comforts to make each escape effortless. Spend your days fishing by a peaceful lake, quietly swimming in the pool or watching sunsets from your own private veranda. Everlasting memories happen every day at White Acres.
Why Buy A Lodge?
Leave the hustle and bustle behind you and make time for yourself, and the family, with your very own country hideaway.
Escape to nature. White Acres is set in 184 acres of lush, open countryside.
Newquay, and the picture-postcard fishing villages, coves and beaches of the Cornish coast are just moments away.
Your lakeside lodge features stylish features, modern comforts and a veranda that's perfect for evening drinks and sunsets.
Lovely, laid-back entertainment. Our 13 on-site coarse fishing lakes are well-stocked with roach, carp and catfish.
White Acres welcomes a brand new lodge development this year Nelsons' Meadow. Home to 11 stunning lodges; with picturesque views of the lake located in a quiet and peaceful area of the park.

Request a brochure
Arrange a visit