The lodges.co.uk brand is owned by Parkdean Resorts, a UK focused self-catering Holiday Park operator with 68 Holiday Parks offering ownership; with national coverage in the South East, South West of England, East of England, Lake District, Yorkshire, North East, North West, Scotland and Wales.
Parkdean company was established in 1999 and Park Resorts in 2001. The two brands merged in 2016 and now offers a range of quality accommodation, including caravan holiday homes, lodges, apartments and chalets, which are available for short breaks and longer holidays throughout the year. In addition, caravan and camping pitches are available at many locations, whilst a number of pitches are also occupied by privately owned caravans under licence.
Our awards & achievements
Six times winner of the British UK Holiday Park Operator
The British Travel Awards is the largest awards programme in the UK for travel companies and sets the benchmark for excellence when it comes to finding out who really is the best in the UK travel industry.
Votes are cast by the British public and as such they have become highly sought-after and recognisable accolades.
We are delighted that Parkdean have been awarded "Best UK Holiday Park Operator" six years running. This illustrates our commitment to providing customers with the best experience and delivering brilliant customer service across all of our holiday parks.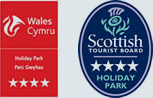 National Tourist Awards
All our parks have been declared exceptional or excellent by the British National Tourist Boards. This is your independent guarantee of our commitment to:
Quality
Cleanliness
Services
Facilities
Environmental standards

David Bellamy Conservation Award
These prestigious awards are given to Holiday Parks that make real achievements in protecting our environment. All of our parks hold Gold and Silver David Bellamy Conservation Awards. Different species of animals, birds, flowers and trees find these areas ideal habitats in which to flourish.

NCC Approved
Parkdean Resorts is proud to have achieved The National Caravan Council's new scheme; 'The NCC Approved Holiday Park – Holiday Home Ownership Scheme'; one of four consumer initiatives run by the NCC. For more information on the NCC and The NCC Approved Holiday Park – Holiday Home Ownership scheme visit www.approvedholidayparks.co.uk.