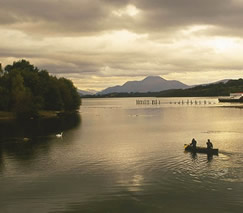 Imagine escaping to the coast whenever life becomes hectic. To a place where you can get close to nature, lose yourself in sea views and embrace a life filled with simple pleasures. A holiday home at Wemyss Bay offers just that. A chance for you, and the family, to begin a new chapter away from the everyday, where your rest and relaxation always comes first.
Perched on the shores of Scotland's west coast, Wemyss Bay overlooks the Firth of Clyde and its idyllic islands. It's the perfect setting for exploring this dramatic, untouched landscape or simply spending some downtime in the most calming surroundings.
Why Buy A Lodge?
Spend days exploring wild Scottish landscapes before snuggling up in your lodge to watch yet another golden sunset – a new, more satisfying life starts here.
Wemyss is the best base for island hopping. Arran, Great Cumbrae and Bute are just a short ferry journey away.
Set on a wooded hillside, with expansive sea views, Wemyss Bay feels far-removed from the hustle of modern life.
A heated indoor pool and adventure playground are there to keep the kids entertained.
Your luxury lodge features plush interiors and contemporary conveniences to make every stay utterly restful.
Request a brochure
Arrange a visit