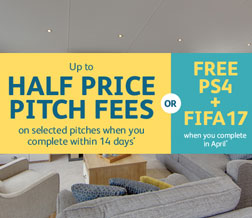 Half price pitch fees and other exciting news!
Easter is almost upon us and spring has sprung (well, almost!). Parkdean Resorts parks have no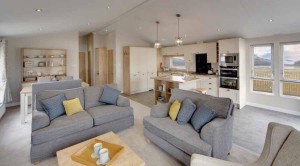 w opened their gates to owners and holidaymakers, and the season is getting into full swing. As a potential new owner, now is a fantastic time to buy a lodge or holiday home, because it often means the greatest selection of pitches available and some of the best new season offers. Plus, there are superb savings on brand new 2016 models to make way for the new 2017 range.
This April, most Parkdean Resorts parks are offering half price* pitch fees on selected pitches when you buy a holiday home and complete the purchase within 14 days during April. If you happen to choose a different pitch, excluded from the offer, but still complete the purchase within April, you'll receive a free Playstation 4 with FIFA17. That's better than an Easter egg eh! Although if you ask nicely, our very own loveable Easter bunny Sparky and the Starland Krew will probably throw in one of those too.

If you're considering ownership at one of these parks; Highfield Grange, Martello Beach, Naze Marine, Valley Farm, Waterside, Ashcroft Coast, Shurland Dale, St Margaret's Bay, Weeley Bridge, Wemyss Bay, Sundrum Castle, Southerness, Sandylands, or Brynowen (not included in the half price pitch fee offer) then you can still benefit from reduced pitch fees for 3 years*.

And if you choose one of the Isle Of Wight parks, then it's still up to 35% off pitch fees*.

Our highly sought after Lake District parks have limited pitch availability, so there are no pitch fee offers in the Lake District or at Warmwell. However, there are still plenty of outstanding savings on new and pre-owned lodges and holiday homes at all parks this season.
So, whether you're looking for a luxury woodland lodge or a modern stylish holiday home in the style of a lodge, rest assured that this spring is a prime time to make your purchase, assuring you of the opportunity to make the most of the full extended season, plus the added value benefits too.
The very best way to discover the ownership lifestyle, and whether it is in fact the right choice for you and your family, is by visiting and spending the day experiencing everything the park and the local area have to offer. Read more about our Easter fun days and open days throughout the season.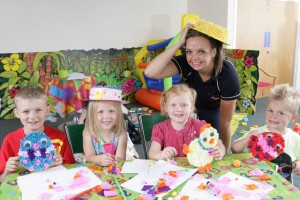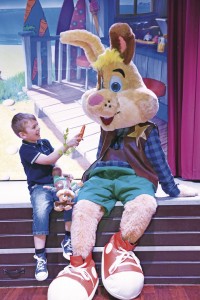 *See website for full terms and conditions applied to all offers.
View all news