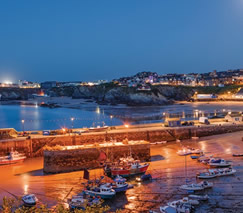 Feel years younger and love life again when you own your own holiday lodge at Newquay, Cornwall.
Newquay is the buzzing heart of Cornwall with so much going on. You're just four miles from some of the best beaches in the UK yet surrounded by acres of rolling countryside so you can cocoon yourself in peace should you want to.
This is the real escape for you and your guests, with all of Cornwall at your fingertips you can take off and explore the local area, dip into our outdoor pools or simply shut the door and relax in the comfort of your own holiday lodge.
Newquay truly does have it all, for adrenaline junkies to home birds we have something just for you.
Request a brochure
Arrange a visit